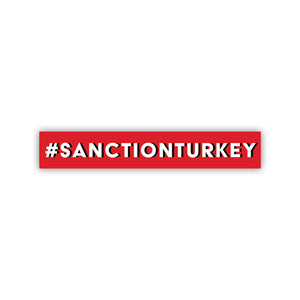 To help spread awareness of Turkish-Azeri aggression and attempt at committing another Armenian genocide, we have created 3 bumper stickers with the hashtags #SanctionTurkey, #PeaceforArmenians, and #RecognizeArtsakh. Each color of the Armenian flag symbolizes the Armenian people. We paired each hashtag with the appropriate color that we think it represents.

Red symbolizes the Armenian highlands, our continued struggle for survival, maintaining our Christian faith, for our independence and our freedom. We chose #SanctionTurkey to be red as it is a current threat to our existence. 
100% of proceeds from these bumper stickers will be donated to the Armenia Fund.
1.5" x 9" bumper sticker
made of thick durable vinyl material that will protect sticker from scratches, water, and sunlight
please allow 1-5 days for processing